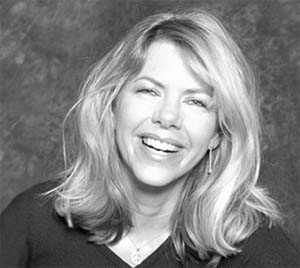 Margie Lapanja
♥ ♥ ♥
Launched her writing career in 1998 with her first book, Goddess in the Kitchen, a deliciously fun cookbook published by Conari Press of San Francisco, California. In 2002, Goddess in the Kitchen was reissued as Romancing the Stove.
In 1999, she wrote The Goddess' Guide to Love, followed by two more popular cookbooks: Food Men Love (2001) and Food That Rocks (co-authored with Cindy Coverdale released in 2004).

A former lifestyle columnist (penning Aphrodite's Afterthoughts: A Lighter Look at Life), magazine editor, food writer, and professional baker, Lapanja owned and operated the celebrated Margie's Cowboy Cookies™ bakery in Tahoe City, California and supplied the Tahoe Basin and surrounding ski areas with the award-winning, quarter-pound Cowboy Cookie™ from 1985 until she sold the business in 1991.
In 2006, Margie established Cathedral Media and edited and published the company's first title, Notre Dame: A Fan's Companion. A native of Notre Dame country in Indiana, Margie was introduced to Fighting Irish Football by her father when she was two and has loved it ever since.

Dedicated to bringing more love, fun, bliss, beauty, and goodwill to life through her writing and endeavors, she is currently writing her next book while enjoying life on the north shore of Lake Tahoe in Nevada with her husband and daughter.