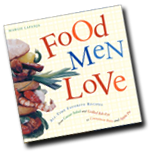 Food Men Love:
All-Time Favorite Recipes from Caesar Salad and Grilled Rib-Eye to Cinnamon Buns and Apple Pie
"Without resorting to cliché or insulting simplicity, Margie Lapanja has culled a remarkable wealth of recipes, food facts, trivia and other proof that real men are about much more than burgers and beer.

Food Men Love reads like an owner's manual for those three things: food, men, and, most importantly, love. Watch out, marriage counselors and divorce attorneys: this book may put you out of business."

~ Mario Batali, star chef, renowned cookbook author
and New York City restaurateur

Margie Lapanja, "Kitchen goddess" and former owner of Margie's Cowboy Cookies west coast bakery, asked hundreds of hungry men one simple question: "What food do you love?" and then set out to collect all-time favorite recipes from men all over the world. Food Men Love (Conari Press, 2001), is a fun collaboration of minds and palates that presents a wide range of recipes from mom's "Magnificent Meatloaf" to Mario Batali's gourmet "Bucatini all'Amatriciana."

This entertaining and informative cookbook includes chapters on the art of grilling, fabulous comfort foods, much-loved meat and potatoes, and the best desserts you've every known with favorite recipes contributed by celebrated men who love food such as Michael Jordan, John Elway, Tom Cruise, Paul Newman, Bob Weir, and members of the 2001 Notre Dame Fighting Irish football team.

With informative and fascinating sidebars on food lore and enticing quotes from some of our more literary food connoisseurs, Food Men Love is a fun way to enjoy food and food preparation. Learn how to:
Make the ultimate "Majestic Mac 'n' Cheese"—Michael Jordan's fave crave
Eat Dessert First! Tame those lusty taste buds with favorites from "Champion Chip Cookies" to "Apple Piagra."
Master a romantic dinner for two in with "Casanova Clam Linguini"
Indulge in the Thrill of the Grill
Perfect for the man who is looking to expand his culinary expertise or the woman who wants to add these tried-and-true man pleasers to her arsenal of recipes, Lapanja delivers a celebration of men and the food they love to eat!
"High School years spent playing hockey seems to have prepared me justly for the full contact sport of cooking in Manhattan. This wonderful new book reminds me why I started in this crazy life in the culinary world, it was for the fun."
~Daniel Orr, author of Daniel Orr Real Food
and celebrated International New York City chef





Editorial Reviews


From Booklist
When the man of the house is a fussy eater or has bizarre visions of what a "real man" ought to ingest, Margie Lapanja has an answer. In her Food Men Love , she assembles recipes from many sources that should appeal to the most macho man. Beyond the expected meat and potatoes, Lapanja cites a Luxury Tuna Casserole full of greens and Provencal herbs and purported to be a favorite of Harry Truman. Other dishes get the approval of sports stars on the order of Michael Jordan. Inclusion of ceviche and an elaborate mushroom risotto shows how far some men's tastes have developed. Pastas make an appearance, but Lapanja warns: "No limp noodles." Mark Knoblauch
Copyright © American Library Association. All rights reserved

Book Description
If the way to a man's heart is through his stomach, this book puts readers on the direct route. Margie Lapanja interviewed thousands of men to compile this collection of favorite foods, fascinating trivia, and fun aphrodisiacs. Here is quarterback John Elway's Hamburger Soup, star chef Mario Batali's Bucatini all'Amatriciana, basketball legend Michael Jordan's 23 Peekytoe Crab Sandwich, and guitarist Bob Weir's Peanut Satay Sauce. Dishes are organized by course, in chapters including "Warming Up His Appetite," "Playing with Fire: Seeking Thrills with the G-r-r-rill," and "How Sweet It Is: Treat Him to His Just Desserts."

Order from Amazon.com click here!
Order from Conari Press click here!